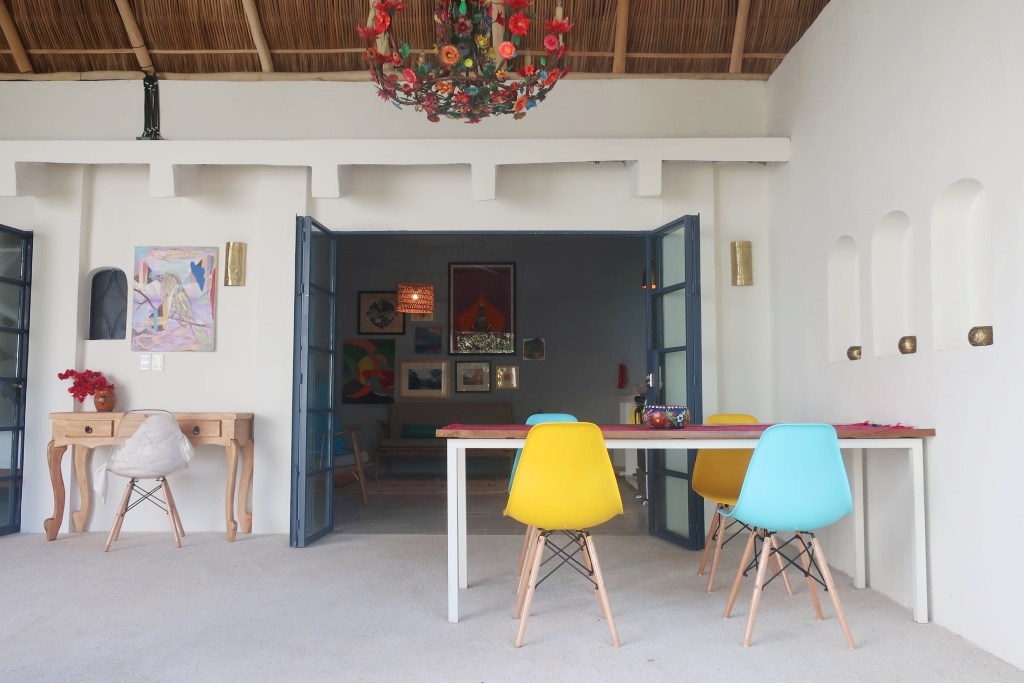 Looking to get away from the hordes of people in Sayulita? 🙂 Lo de Marcos is a very tranquil small town right on the ocean just 13 minutes up the highway from Sayulita and ahhhhh….the almost-deserted palm-shaded beach here really feels like a true tropical holiday!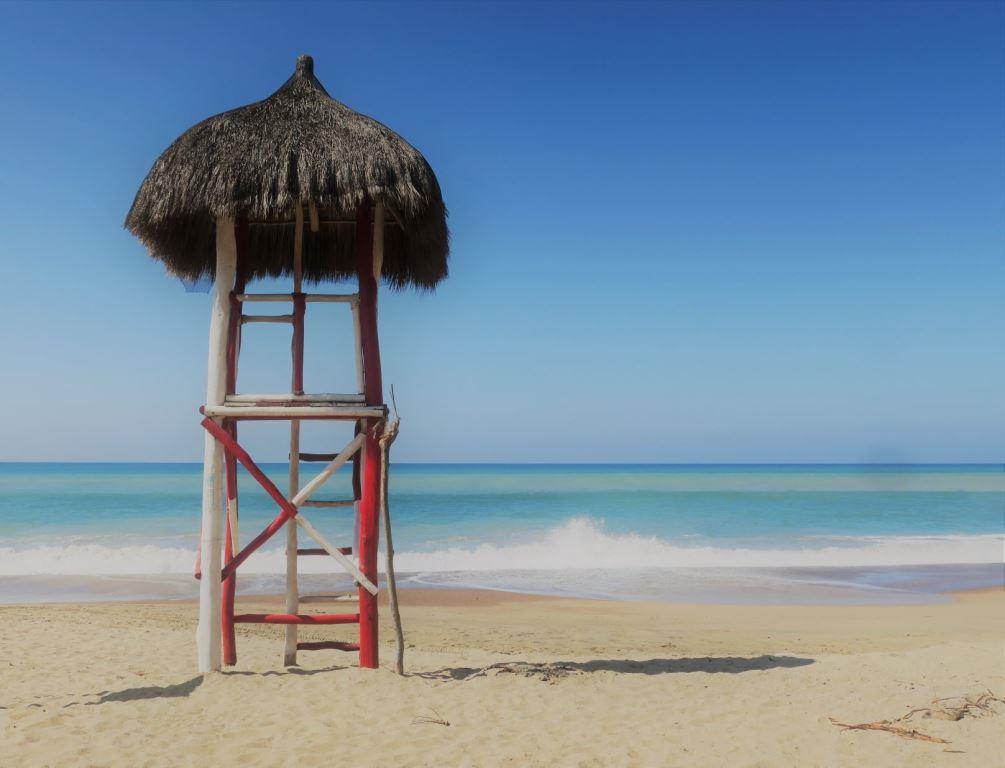 In 2020/2021 I renovated a typical old Mexican casa that was built in the 70s and is just a four minute walk from the beach, on the calle principal, Luis Echevarria, and now houses my little store, Cosmic Milkshake, in the front and a 1-bedroom casa and studio casita in the back.
If you are interested in staying in either Casa Clara or Casita Lucita read on…! 🙂
You can check the availability calendar and pricing here on VRBO but contact me here for a better price: tracey****ninthhousedesigns.com (replace the *s with the @ symbol please!)
High Season (Nov 1 to May 31)

Casa Clara, as a 1-bedroom is US$700/week with a five night minimum

Casa Clara, as a 2-bedroom with Casita Lucita, is US$1000/week.

Low Season (June 1 to Oct 31)

Casa Clara, as a 1-bedroom is US$500/week or US$1800/month. AC is available during low season.

Casa Clara isn't available as a 2-bedroom during the summer since Casita Lucita doesn't have any air conditioning.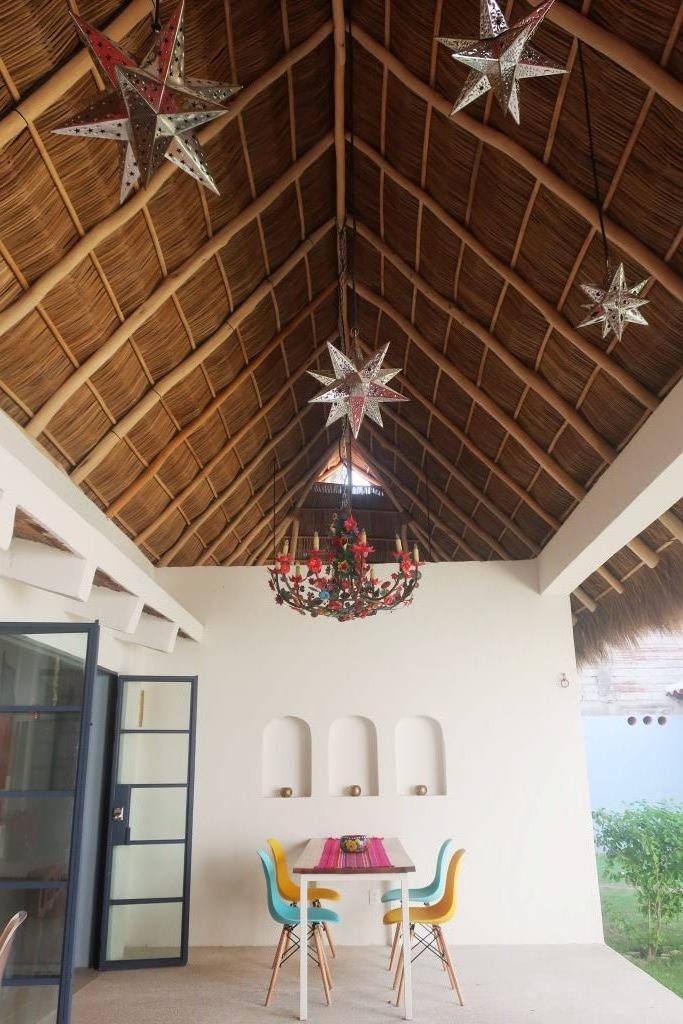 Enjoy being in the heart of Lo de Marcos, just steps from restaurants, cafes, the plaza and a four minute walk to the beach while feeling like you're in the countryside with your courtyard full of fruit trees, flowers, an expanse of green grass and hammocks. My freshly and lovingly renovated 50 year old traditional Mexican house has come alive with my love of colour and collection of art and objects from around the world.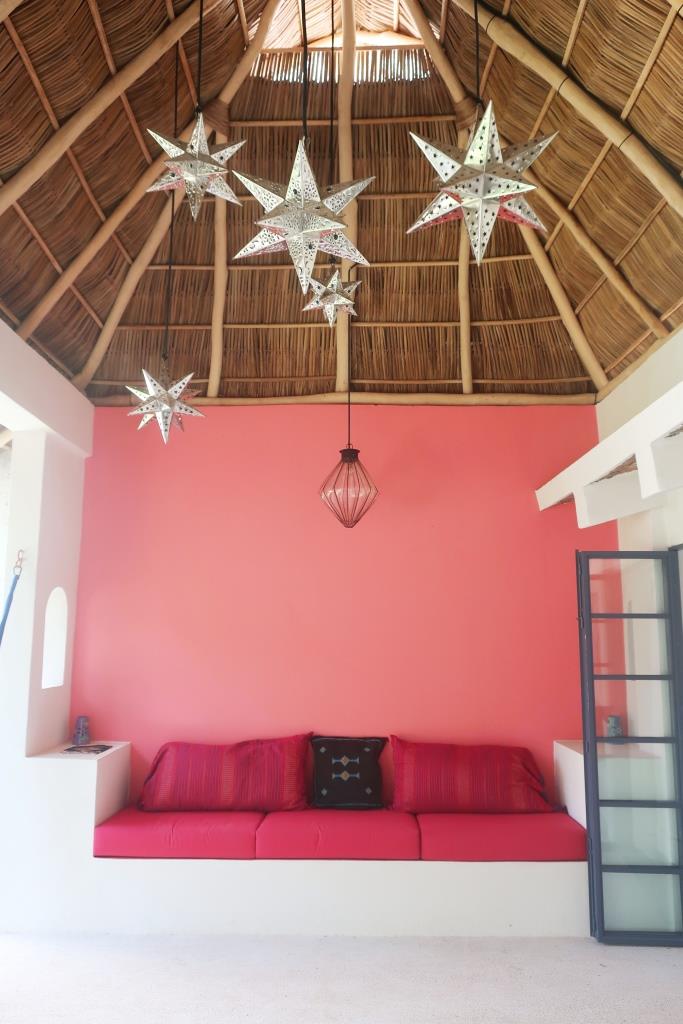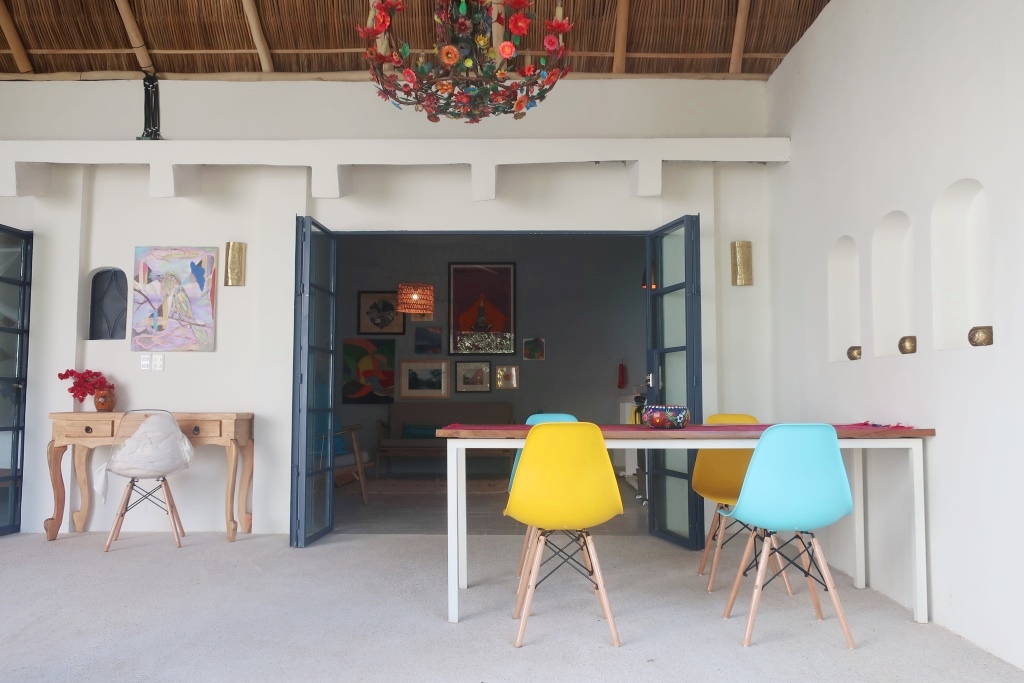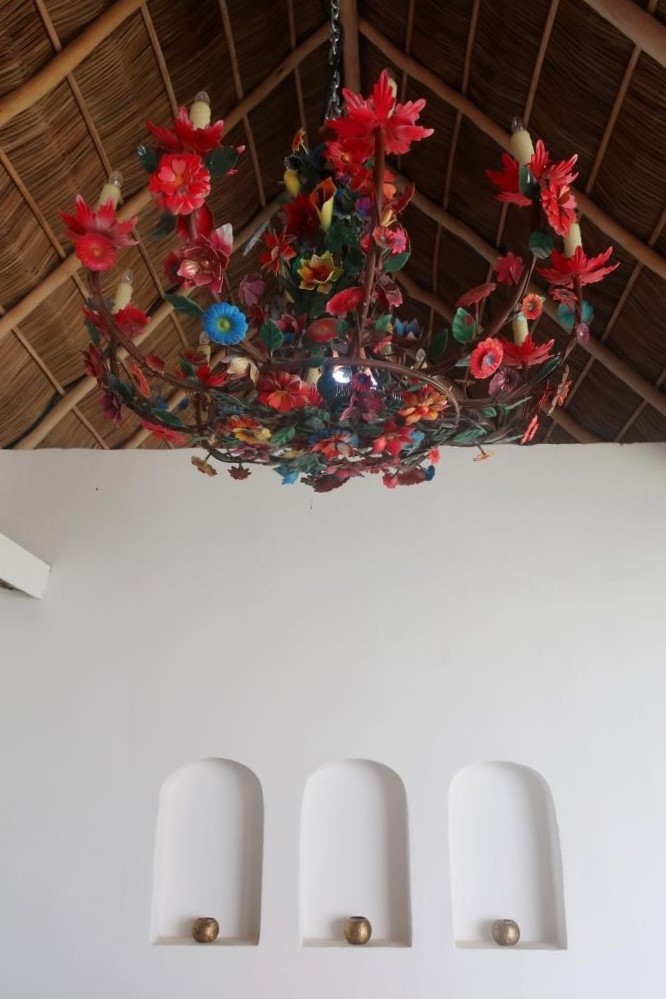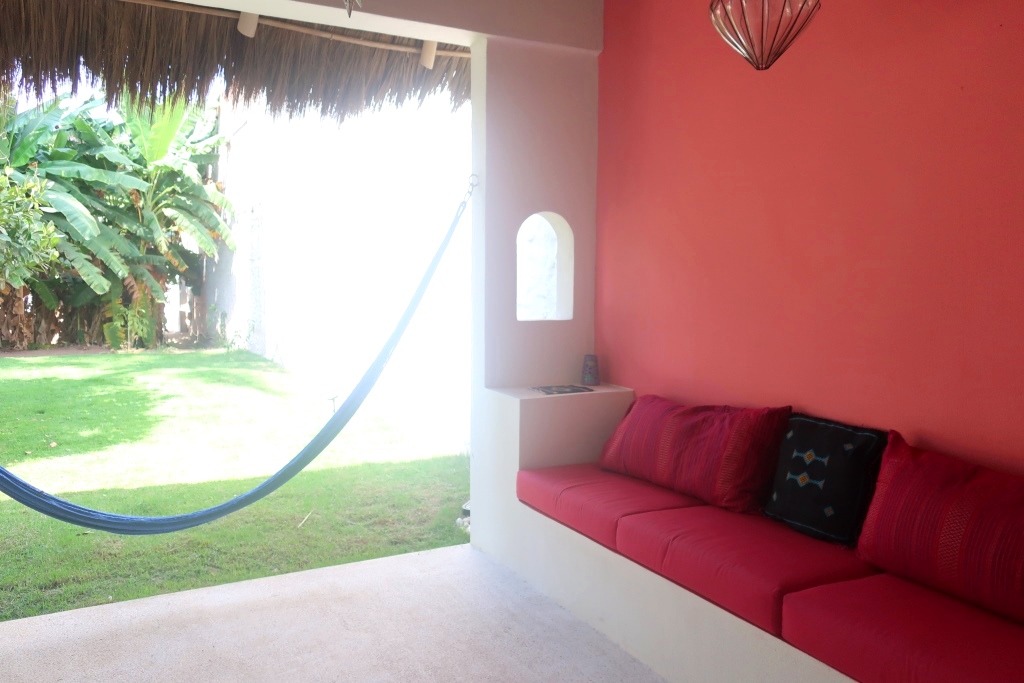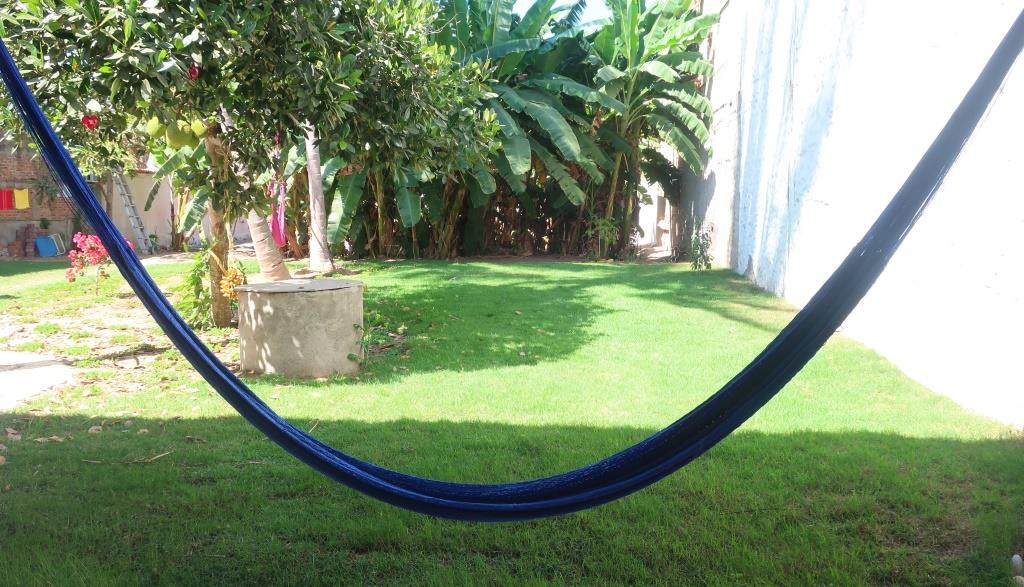 The Bedroom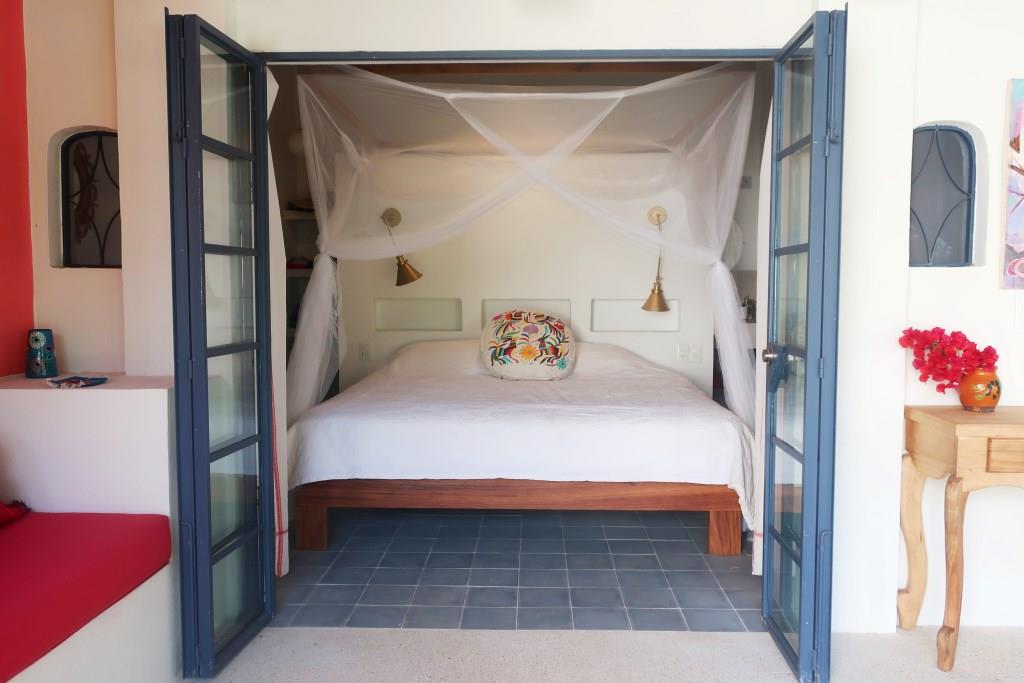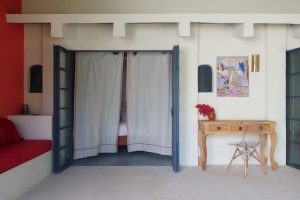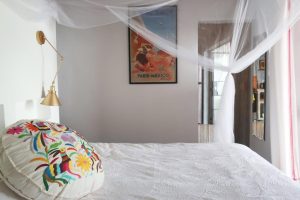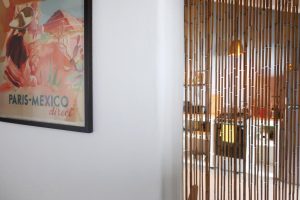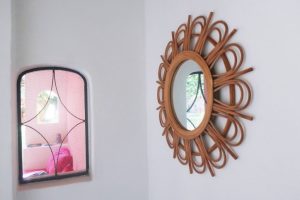 The Kitchen and Livingroom with Record Player (please be gentle with the records and the player)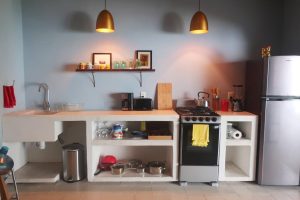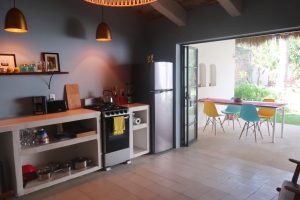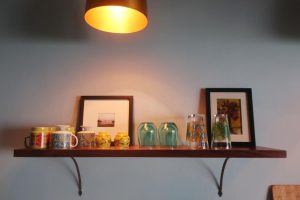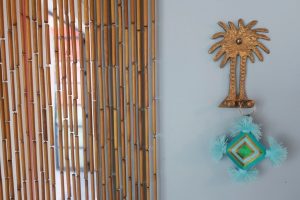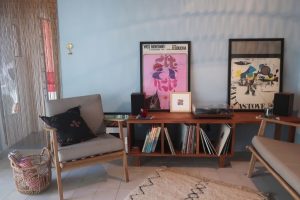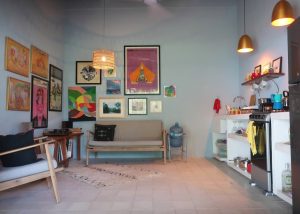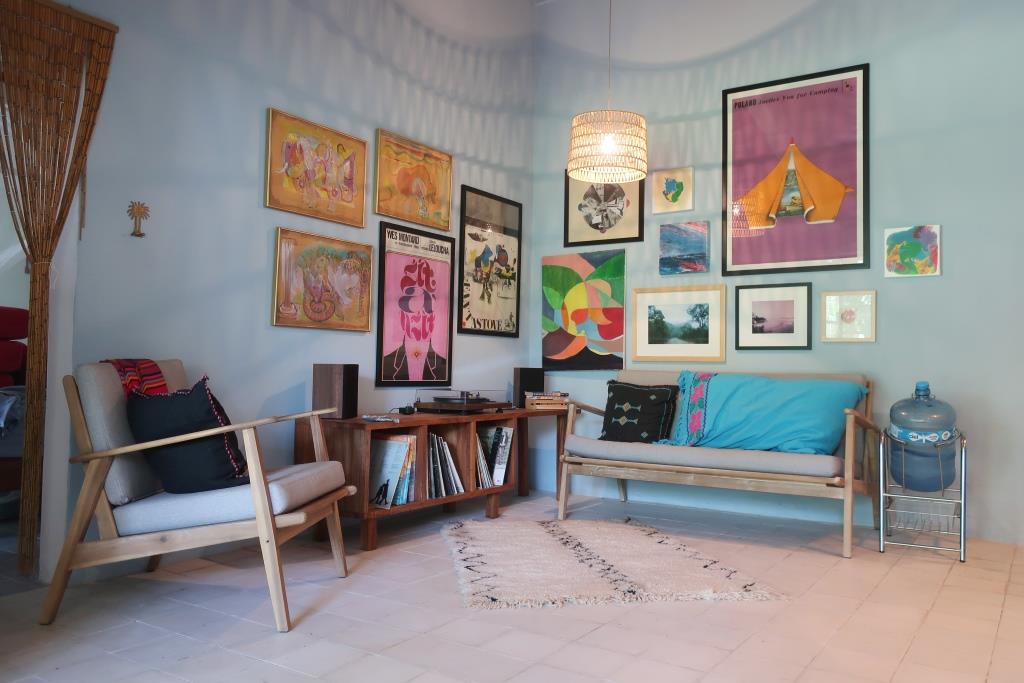 Evening Lights
The lighting inside and out is warm and welcoming as I use mostly incandescent bulbs. Under the palapa there are many lighting options for lots of atmosphere at night. 🙂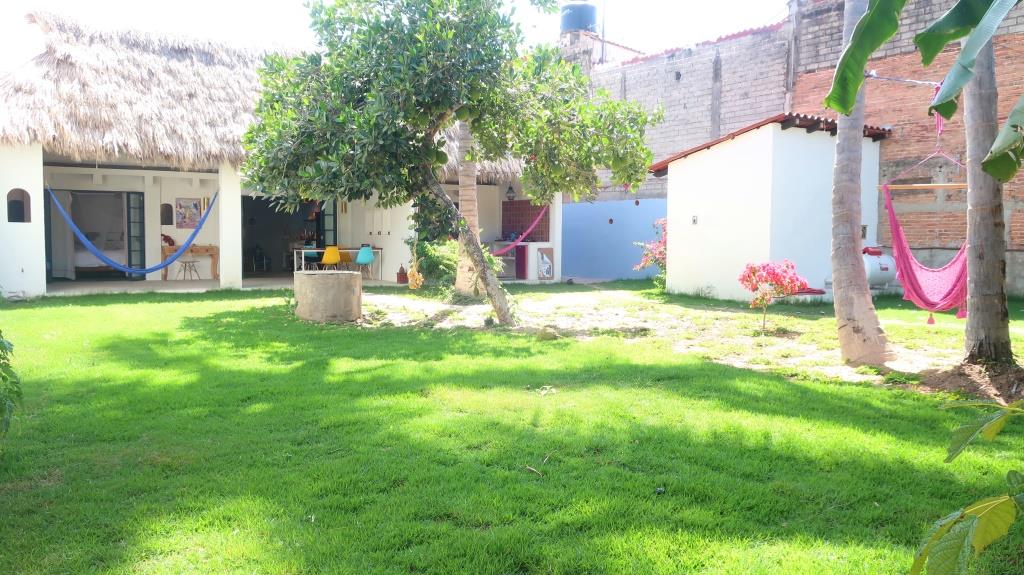 The courtyard with Yaka tree, bananas and a guava tree
When guests book Casa Clara through this webpage instead of through airbnb or vrbo there is no chance of getting an official review but my last guests said they wanted to leave me a review so here it is 🙂

We LOVE Casa Clara! We stayed 10 nights and did not want to leave! It is located in town and just a few blocks from the beach, but as soon as you arrive at the front gate you feel as if you are in your own hidden oasis! The house is beautiful, comfortable and so spacious! There is a living room with a record player, totally equipped kitchen, and a lovely king bed with a view of the private backyard, which is filled with flowers, greenery, and even a jackfruit tree! The house also boasts an amazing outdoor seating and dining area! It's great for bird watching during the day and in the evening it is filled with amazing light fixtures making for the perfect outdoor ambiance! Tracey has thought of everything and more to make your stay amazing! From sharing the family record collection to being the friendliest host ever! Do yourself a favor and stay at Casa Clara!

Star and Bobby from Florida, March 16th to 26th, 2022
CLOSE TO THE BEACH—Tucked to the left of the colorful Cosmic Milkshake shop is a gated walkway, arbored with beautiful flowers and lights. Stepping into the expanse yard, walled for privacy, are two side-by-side casitas. One is smaller but complete with its own bedroom/closet/bath and a kitchen on the patio. The second one is twice the size, with indoor seating and kitchen with an expansive patio under a vaulted ceiling. My friend and I felt transported into a serene, private world all to ourselves. Every detail was attended to with an artful eye, from the bowls and cups on the shelves to the eclectic art on the walls illuminated by carefully selected light fixtures. I'm fastidious by nature and could not have asked for a sweeter, well-appointed place to land in Mexico. 

Debi Bodett from Olympia, January 9th to 15th, 2023
DebiBodett.com 
Other things to note
Full Kitchen with stove and refrigerator, coffee maker, toaster, blender, pots and pans, dishes, the works 🙂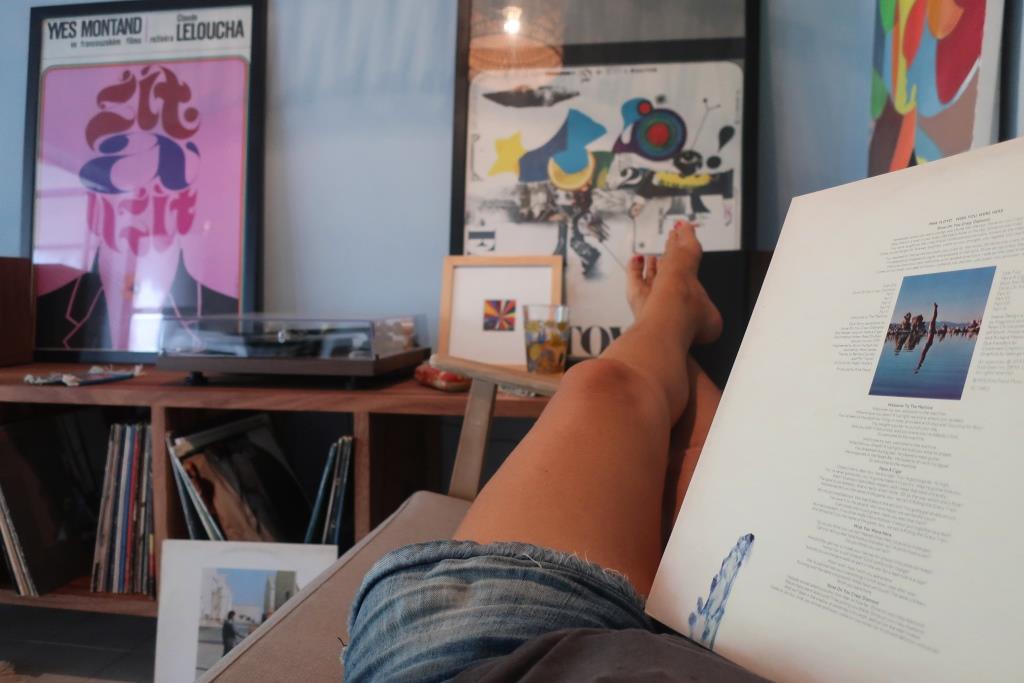 I have a record player and family records from the 60s, 70s and 80s so please be gentle with them. It's fun to lie back and listen to a whole album…soooo relaxing! Bring an album if you want to listen to it! (EDIT April 2022, many of my guests have been bringing their own records! Sooooo fun!)
Bathroom with shower, toilet and sink. Closet with hangers.
Internet: Megacable, fiber optics, the best in Lo de Marcos. Works very well!
Air Conditioning is available only from June to the end of October.
Casita Lucita
If you'd like to rent the Casita Lucita, located right beside Casa Clara, as a second bedroom with full bathroom and indoor/outdoor kitchenette, you are welcome to. It is an additional US$50/night if you are already renting Casa Clara.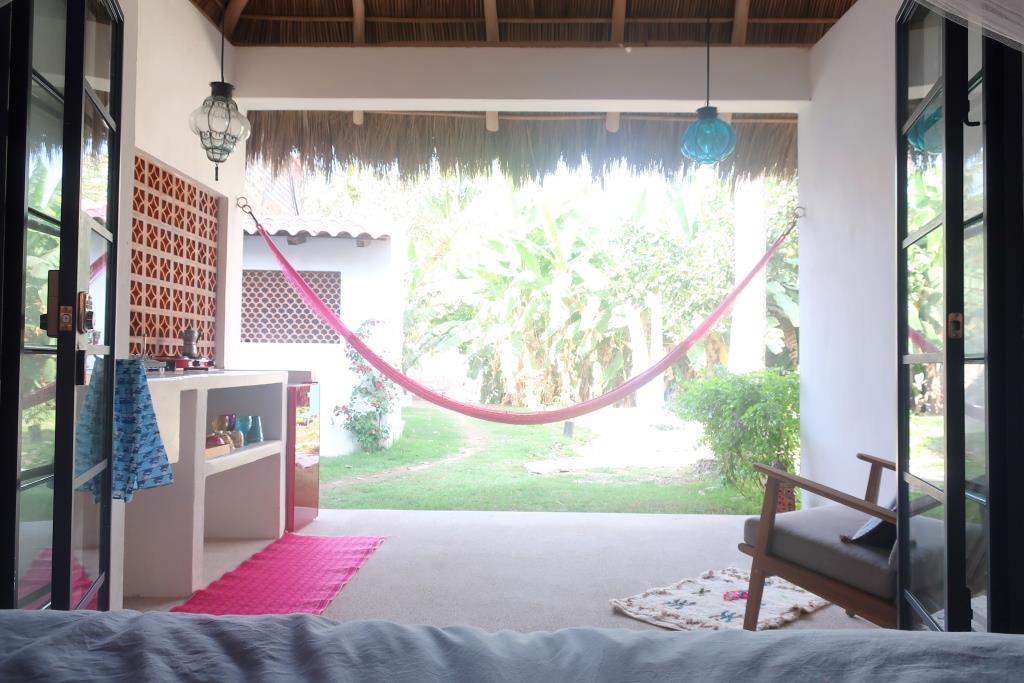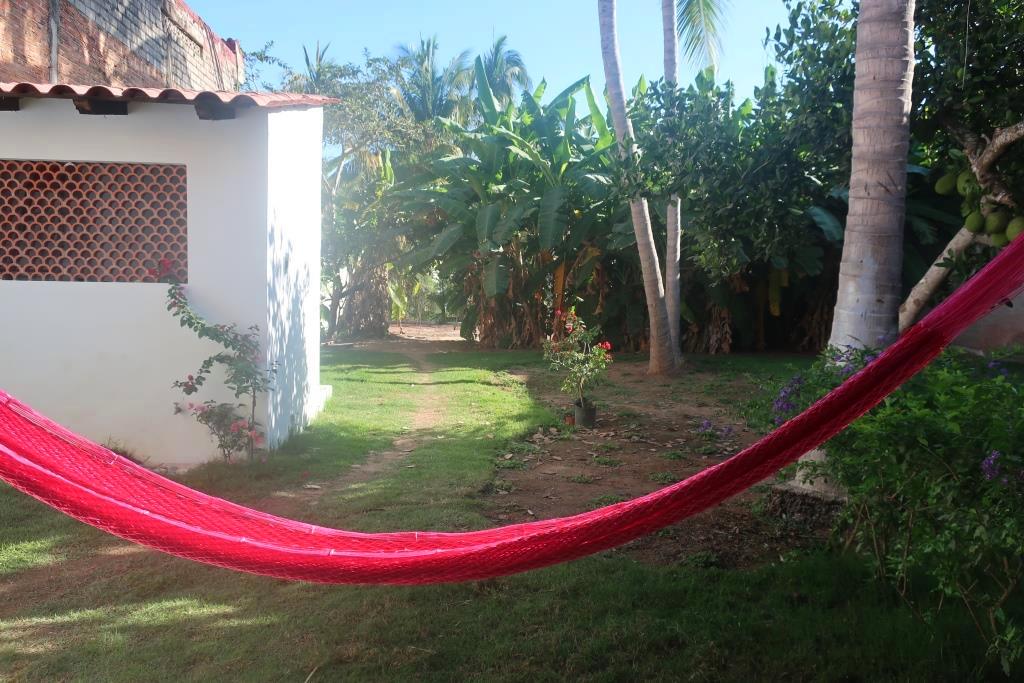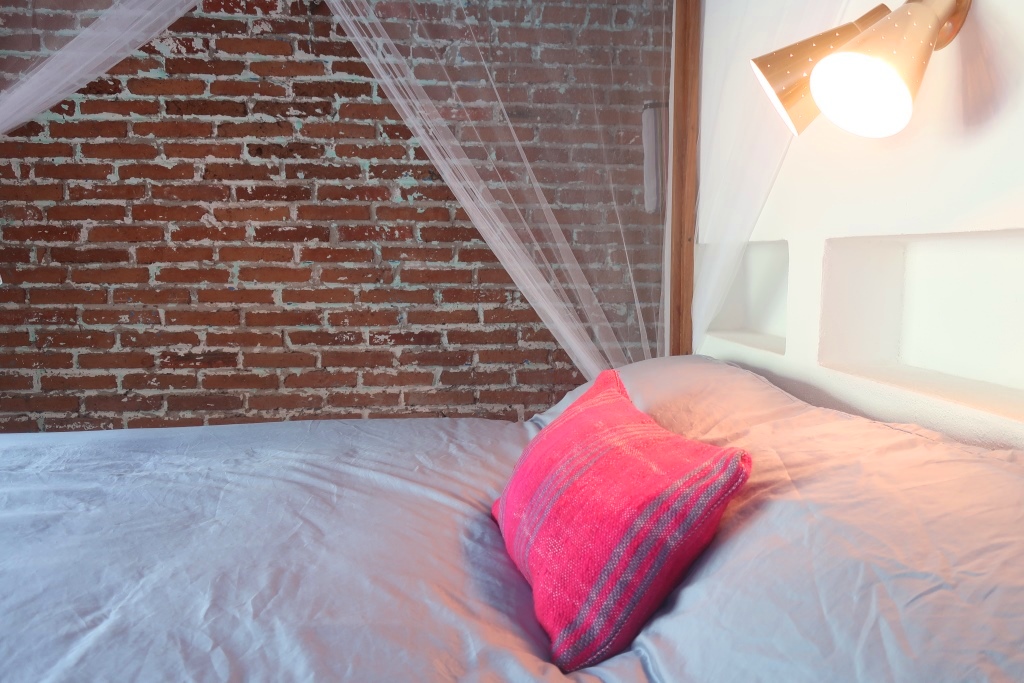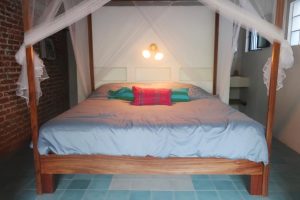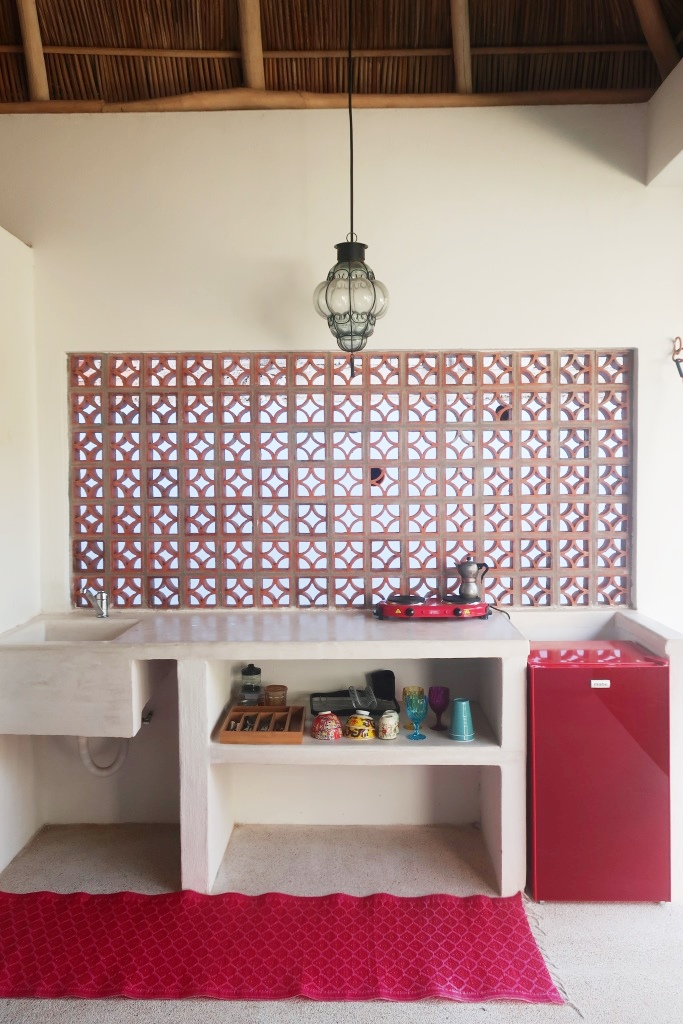 Please contact me at tracey****ninthhousedesigns.com (replace the *s with the @ symbol please!)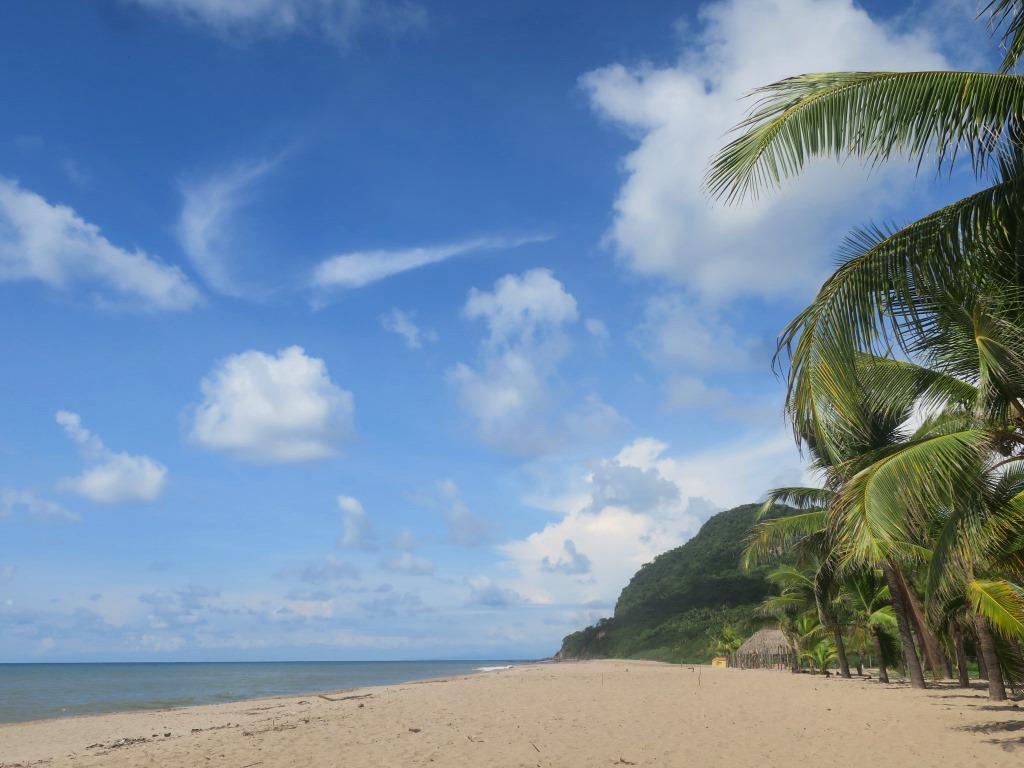 I hope to hear from you!
Tracey